|
No Comments
Just in time for the school bell chime, High Road worked with TELUS to invite media to a Back to School preview event showcasing the company's exciting line-up of devices and services. From Facebook-centric phones like the HTC Status, to social-networking based music service Rdio, media were invited to see the many ways TELUS is curating the Internet to offer customers the services they know and love on smartphones built around social trends.
To kick-off the Back to School theme, media were sent invites in the form of college admission letters, encouraging one and all to take part in a freshman orientation at TELUS. 19 media spanning technology, lifestyle and online publications attended the Back to School preview event held at the TELUS tower in Toronto.
Technology reporters and bloggers were invited to an afternoon briefing at the TELUS Innovation Centre with VP of Mobility Solutions, Brent Johnston, who discussed TELUS' smartphone and services strategy. A few hours later, a slew of lifestyle reporters and bloggers joined for the second half of the event, complete with fun and interactive demos from TELUS spokespeople. Media enjoyed a live DJ, bar service, appetizers and a "Glee"ful performance from the Etobicoke School of Arts club, SPLASH, who charmed the audience with foot-stompin' renditions of classics like "Don't Stop Believing" and "Lean on Me."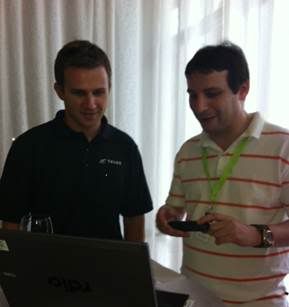 Jen McNeeley, editor of SheDoestheCity, echoed everyone's feelings about the Glee club performance, going so far as to tweet that the TELUS event was the highlight of her life: And the glee club did Journey. Who knew the @telus event would be the highlight of my life? Several others commented that the event's look and feel creatively captured the "Back to School" theme.
Class may be dismissed, but one thing's for sure: media are hard at work because the coverage is rolling in at record speed. From blog posts to tweets, this class is on their A game!