Ever wonder what it takes to be Georges St-Pierre, world welterweight champion of the UFC? That's the question we asked journalists in order to drive coverage of the G Series, the latest innovation in sports nutrition from Gatorade designed to provide athletes with the necessary fuel, fluid and nutrients before, during and after activity (see the Facebook info tab we built for it here).
(And yes, being naturally blessed with good genes helps but it's the years of hard work and strategy that have gone into GSP's training and nutrition regime that have made him into one of the toughest men on the planet.)
 Why did we ask journalists that question?
 The Goal: Generate media coverage for the G Series by focusing on Gatorade athlete Georges St-Pierre's title fight at UFC 129, the biggest UFC event ever.
The Challenges: No access to GSP himself (in training, naturally…) and a very crowded news week (the UFC's own activation & the Royal wedding among other things).
The Solution: On April 26, 2011, Gatorade Canada held a day-long media tour with the amazing Firas Zahabi, head trainer to the champ himself.  Firas held court at a downtown Toronto MMA gym to talk about the importance of sport nutrition and teach journalists and bloggers a few key MMA moves that they might see GSP himself throw down.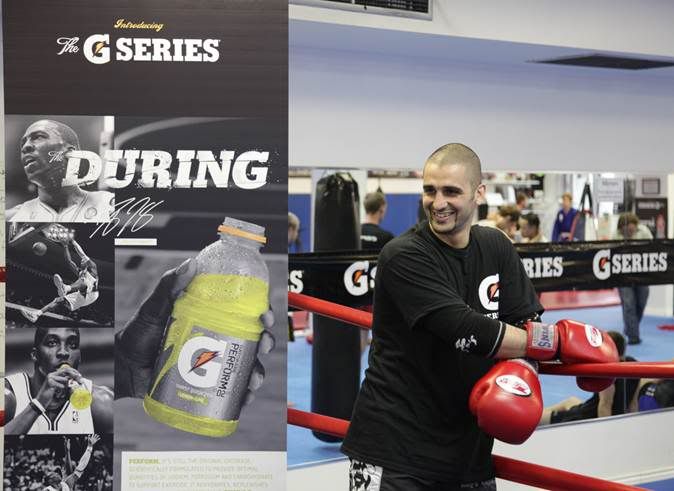 Outfitted in their G Series-branded gi, media worked up a sweat and got tips from Firas in the Brazilian Jiu-Jitsu and striking stations. Throughout their workout, journalists learned the role the G Series can play in getting the proper nutrition before, during and after training. It's like Firas says: you can be the fastest car on the track, but if you don't have the right fuel, you're not going to go anywhere.  Think you'd have what it takes? Check it out.