|
No Comments
Last week, TELUS released the results of the 2010 TELUS/Rotman Study on Canadian IT Security Practices during a media announcement at TELUS House Toronto.  In its third year, the survey reflects responses from 523 Canadian business owners, managers and executives, nationwide.  Although the event was hosted in Toronto, media and influencers from across the country were able to partake live via webcast.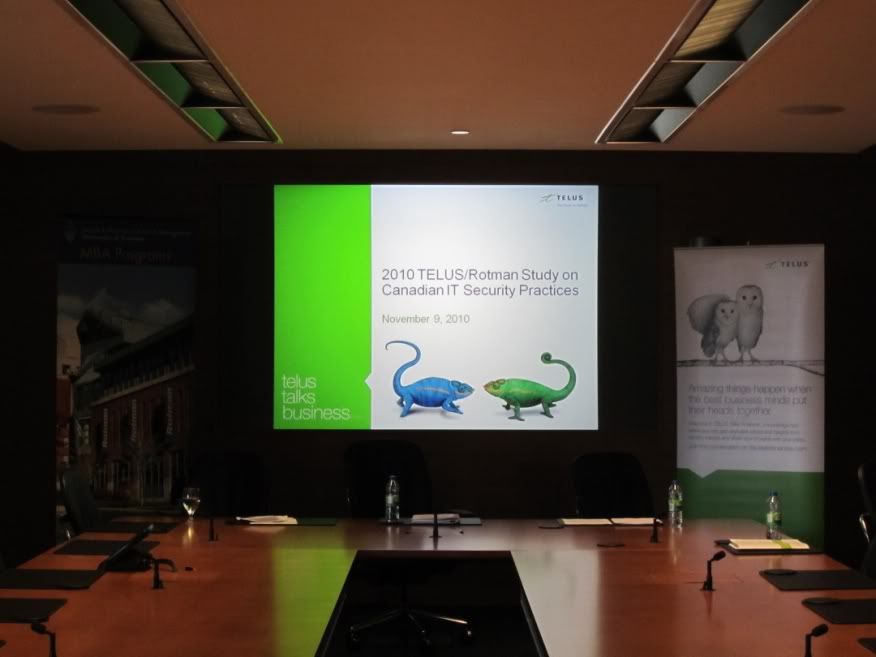 Here are a few of the key findings:
 1.  Canadian security breaches rose 29 per cent while breach costs decreased by 78 per cent.  Private and public sectors experienced a minimal increase in security breaches; government reported a significant breach increase of 74 per cent.
 What does this mean?  Increased IT investment has led to greater visibility and earlier detection of these breaches, ultimately lowering clean-up costs.  The study also reveals a growing trend toward sophisticated attacks on high value data such as identity information and credit card numbers. What this says to businesses is that it's crucial to take a proactive approach in securing data and implementing employee education to maintain security, as we see a continued increase of more intelligent attacks.
 2. This year's results uncover a misconception:  One in four Canadian organizations are blocking access to social networking sites, citing security as the primary reason. Today, 66 per cent of employees in the government sector have access to social networking in the workplace, as do close to 80 per cent of private and public sector employees. 
 What does this mean? In both cases, organizations that block access to these sites actually bring productivity and security issues upon themselves as employees spend valuable time trying to circumvent the block or surf the sites through their mobile devices.  As technological innovations continue to develop, from social networking to the proliferation of smartphones, there needs to be an increased focus on education and awareness across IT, development and employees to ensure security risks and responsibilities are understood.
But perhaps the most exciting result of these 2010 findings is the interest shown by both business and consumer media. We're looking forward to next year's results!