CHSRF's new online hub invites visitors to check the pulse of Canada's healthcare system
No Comments
|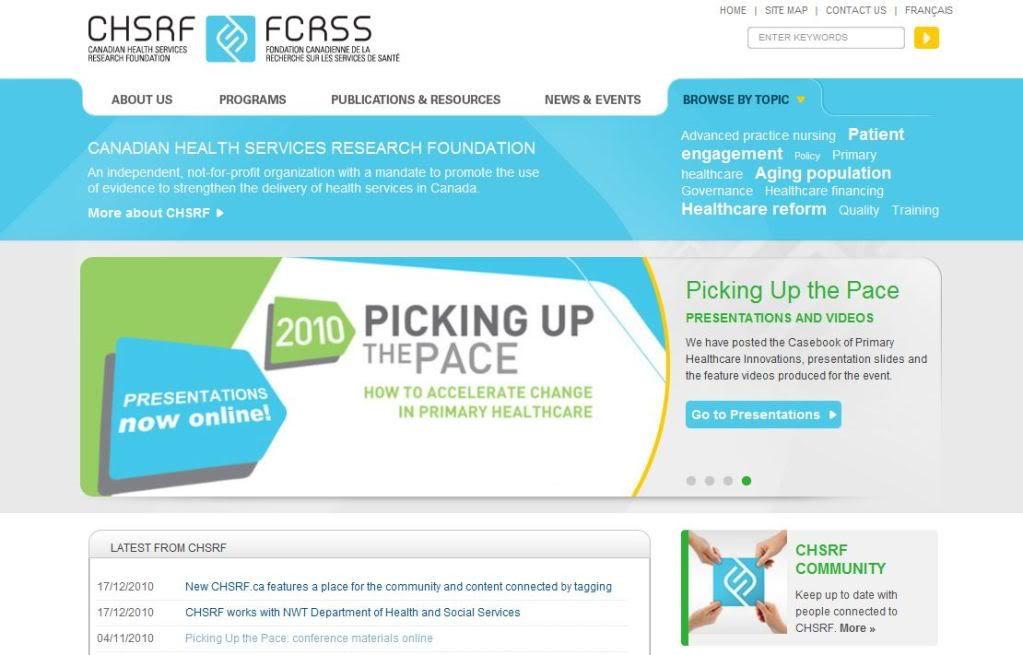 The Canadian Health Services Research Foundation (CHSRF) recently teamed up with High Road to refresh its online presence – and the result is more than just a new coat of paint.  With the launch of this new site, CHSRF will be talking to its audience about what matters most: the state of Canada's healthcare system.
The CHSRF's mandate is to strengthen healthcare in Canada by engaging and supporting citizens, accelerating evidence-informed change, and promoting policy dialogue.  With the new CHSRF.ca, the independent, not-for-profit group has become a great example of how organizations can take advantage of online tools to better engage stakeholders and foster a strong sense of community in its audience to truly drive change.
Developed with the goal of encouraging national dialogue and debate between health services partners, academia, media and researchers, the rebranded site is the product of extensive stakeholder consultations and a social media audit.
CHSRF.ca  invites visitors to join in on the healthcare conversation through both Facebook and Twitter, and visitors can also contribute to and stay up to date with CHSRF through the community page, which features recent news and health updates,  as well as a Twitter feed from CHSRF's customized community list.
Visitors can also easily view CHSRF's extensive content library through a robust tagging system (including tag clouds) which allow visitors to quickly access the exact information they need. This was made possible through the implementation of a more flexible, customizable content management system (CMS).
The new CHSRF site will now be a thriving online hub to connect healthcare thinkers with healthcare doers – a space that is sure to contribute to the ongoing development of the Canadian healthcare system.